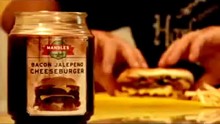 Even religious organizations think meat can be funny. BlueFish TV was started way back in 1987 by Priority One International to create teaching materials for ministries and youth groups. Since then they have created over 150 dramatic and comedic video clips for that purpose.

Check out the incredibly funny commercial parody "Mandles" here.

You can also see what else they produce at BlueFishTV.com.