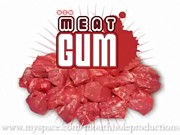 Sometimes a comedy sketch presents a product that might actually sell in the real world. One such product is featured in this hilarious commercial parody by Chicago videographer Mark Matthews of MouthHole Productions. Check out "Meat Gum" previously featured on Planet 19 Presents.

Click here to watch the video.

Learn more about MouthHole at www.mouthhole.com.