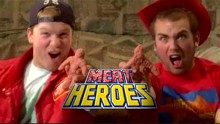 It was only a matter of time before someone made action figures out of meat. Well, actually this video is a parody from the comedy duo Magic Hugs. The Chicago natives Scott Blair and Tim Wilkerson started working together on the student produced television show "alt.news 26:46" at Southern Illinois University. Check out one of their first productions, "Meat Heroes."

Click here to watch the video.

Visit Magic Hugs' official site.